Thanksgiving is around the corner. Are you ready?
I've put together a few items you might like to have as you get ready for your holiday dinner gathering.
Greetings!
Greet your guests properly with this doormat that sets the tone from the beginning. (After all you don't want your relatives tracking in all that dirt!) You can personalize this one.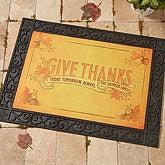 Personalized Thanksgiving Doormat
Cut to It!
Sharp knives are a must for all of your Thanksgiving preparations. (Keep these away from the relatives if there is any tension in the house!) I love this colorful set.
Cuisine Art Colored Knife Set
Add this set of cutting boards to the mix. They come in three handy sizes and are made of sustainable bamboo.
3-Piece Bamboo Cutting Board Set
Let's talk turkey!
If you are from the South, you know how good a fried turkey tastes. It is super moist and full of flavor. But outdoor turkey frying can be a fire hazard. Butterball to the rescue! This turkey fryer keeps things safe (provided you don't try and plop in a frozen turkey).
Butterball Indoor Electric Turkey Fryer
Serve it Up!
Plate up that turkey and dressing and all the fixin's on these cute Thanksgiving plates which come with a handy caddy.
Thanksgiving Plates & Caddy (Set of 6)
You deserve dessert!
You've prepared for days and now the feast is complete. Add some variety from the standard pies with Pumpkin Truffles! These would make a great hostess gift too.
Perfect Pumpkin Truffles
Sit and Relax!
Sip some Starbucks Thanksgiving Blend coffee while you relax and visit with family and friends. Job well done!
Starbucks Thanksgiving Blend Coffee
If you need dining furniture or kitchen tools in advance of Thanksgiving, take a look at the two showcases below.