Children's Clothing for Less!
(Click the images and links to shop!)
The online sales continue, and that is true for kid's clothing as well. You can save on clothing for baby, toddler, and even the bigger kids during the Christmas season sales.
Gymboree has adorable clothes, and
right now everything is $14.99 and under at Gymboree.
The "Dots of Style" collection for girls includes a red orange eyelet cardigan that is a spectacular pop of color. A black and white dotted dress with a matching red orange ribbon at the waist with a permanent bow in back. And color block flats with the matching orange toe. Each of these items are on sale for $14.99. There are additional matching accessories including tights, and a headband.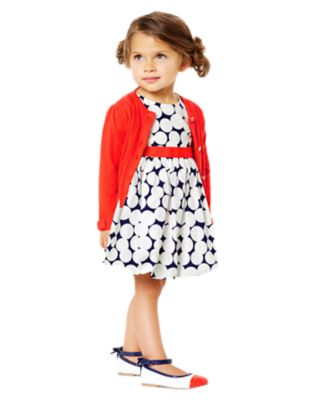 Dots of Style
Also from Gymboree, is the "Plaid Explorer" collection for boys., below. The plaid flannel shirt looks great layered over a t-shirt and worn with jeans. The rugged, casual look is perfect for a little boy! The striped, spaceship beanie is reversible, and oh so cute. While the mock suede sneakers give the collection a stylish finish.
Plaid Explorer
Another store offering seasonal online sales for kids is Crazy 8. Below are their current sales offers.
Online only, jeans and sleepwear are $8.88 at Crazy 8.
Everything is $12.99 and under at Crazy 8!
Outerwear is 15% off at Crazy 8